If there's one thing worth bringing home as a souvenir on your trip to Greece, it's the produce! Forget the fridge magnets, save room in the luggage for a plethora of the finest Greek produce and your kitchen cupboards will thank you. Sink back into that fabulous dinner on the beach every time you add a sprinkling of locally curated herbs. Curb those cravings with a few spoonfuls of carob powder in that brownie in a mug. Each time imagine yourself back under the sunny skies of Greece.
What is it that makes Greek food so delicious and healthy?
Greece is a land of produce with a unique grasp on local gastronomy. Pure and unspoiled, the land and sea are prosperous. Greeks have spent centuries honing their tastes to create some of the finest natural premium products in the world. Unique cheeses, fresh fish, shellfish, smelt, sprat, tasty lamb and goat meat, olive oil, mountain vegetables, mountain herbs and aromatics, and thyme honey. You'll find all these either in a trip around Greece or in just one place called Legacy!
Premium Products from Greece
Legacy Gastro Suites is revealing to be the new guardian of Greek traditions. A location where premium products from Greece find a natural place, enhancing the stay both of locals and travelers. And it is not just a choice based on taste, the idea behind this project is to offer the consumer the best national raw materials that give shape to a unique legacy of Greek cuisine.
Inside the hotel's kitchen, in every gastro station located in the suites, but also in El43 the hotel's rooftop restaurant- and on the gastro shelves that Legacy Gastro Suites portrays, guests and visitors are bound to find a selection of premium products from Greece as if they had traveled all around it. All together in one place for people to taste, enjoy… and even take home!
Premium Cheese
One of the most rewarding gifts to yourself (or indeed anyone) is, of course, a wide selection of exclusive Cretan cheese. Specialized cheeses are available within the Legacy Gastro Suite's curated collection such as the P.D.O. product (Protected Designation of Origin) ladotiri. A hard white cheese preserved in olive oil that has a salty flavor and compelling aroma. If you decide to prepare a romantic evening on your sea view balcony, just take a look at your suite's food station. All you need is the wooden board from the cupboard, the smoked gruyere from the mini fridge, the premium white wine from your personal wine cooler! Ah! And the carafe from the shelf!
Find more on the finest Cretan cheeses in this blog.
Cretan Askordoulakous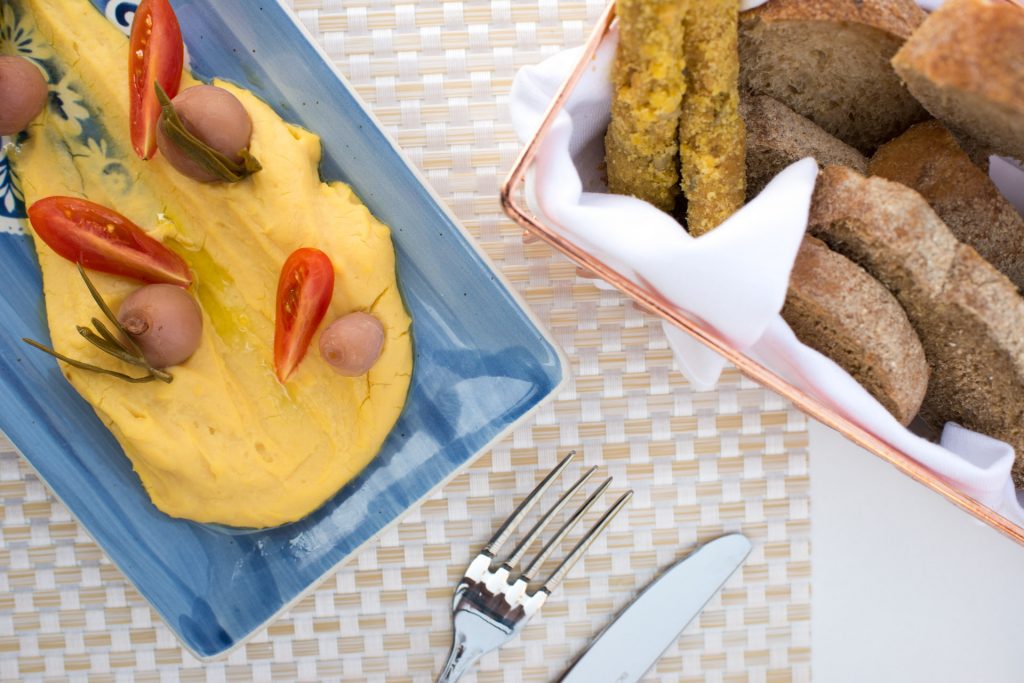 Crete is well-known for the high quality of its agricultural products. The fertile soil of the island produces a rich variety of vegetables, thanks to the temperatures in every season. Plenty of sunshine and warm weather make the products always fragrant and tasty. Askordoulakous are the bulbs of some wild greens.
These vegetables, also known as volvoi, are ideal in stews, accompanying meat such as lamb or pork. Askordoulakous are definitely a must-try with hot bread, chopped onion, tomatoes, olive oil, on fava beans! Ask the room service to prepare a traditional fava and bread basket and try this combination at least once.
Rock Samphire from Lesvos
Greeks have known this small plant from the Ancient times. Rock samphire, or sea fennel, grows between the rocks along the Aegean. Its therapeutic qualities and its unique characteristic flavor make it a treasure of vitamins and minerals. A perfectly healthy delicacy.
Rock samphire well combines with green salads and boiled vegetables adding a distinctive flavor to every dish. I just added it in my sandwich of ham & truffle butter.
Mastic Paste from Chios
These crystal, resinous pearls come from a particular tree, Pistacia lentiscus, on the island of Chios. These provide quite an exclusive, fragrant aspect to dishes that no other ingredient donates to food. Not to mention its healthy qualities against stomach ulcers, its antibacterial properties, its digestive features and so much more.
With a double personality, Chios Mastic is a unique, appellation-of-origin product to be found in beverages, desserts, pastries, and even ice cream. It is a versatile and exotic, all-Greek product that enhances every dish you can think of. I tried it as a liqueur, nice and cold, just before my dinner.
Kavourmas Cold Cut from Northern Greece
This traditional preserved meat known as kavourmas is a product from the areas of Northern Greece, specially Thrace.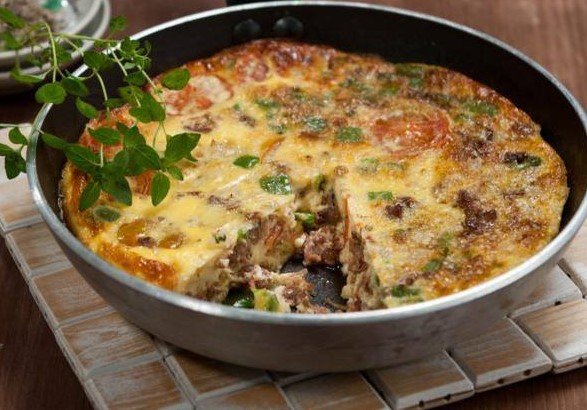 Kavourmas is a word that originally described the preserving method since this cold cut can be made from veal, buffalo, pork, lamb, and other cuts. The procedure includes salting the meat to get rid of all the liquids, cooking the cut on very slow fire with a generous dose of spices and lightly browned in fats. This fat preserves the cold cut for months.
The chef warmed it for me to eat it with dolmadakia, galomyzithra cheese and cretan rusks. The next day I had it in my omelet too! An absolute revelation!
Greek Herbs
Whether they're used for cooking, seasoning, or made into herbal teas, Greek herbs are the cornerstone flavour and have fantastic health-boosting benefits. They have a unique, characteristic flavour. Dried herbs such as laurel, sage, thyme, rosemary basil, wild fennel, lemongrass, mint, and oregano provide aromatic and sensual flavours that are indispensable in the cooking process, bringing out the best in any meal.
The furry leaves of sage are not just for dicing into your dinner, sage is a strong antioxidant and is believed to stimulate brain function, its high vitamin K count is also great for strong bones. Its sister herb rosemary is thought to increase memory function. A concoction of these two powerhouse herbs is sure to kickstart a fabulous day.
Thyme has been popular in Greece since the Spartans, when soldiers would rub it on their chest before battle or bathe in a thyme tonic. Considered as the herb of Aphrodite, its health-boosting powers include antimicrobial and anti-fungal properties, relieving indigestion and easing coughing and sinus congestion.
The fragrant aromas of floral herbs like honeysuckle, rose, jasmine, chamomile, linden flowers, lemongrass, mint, lavender, dittany and mountain tea are constantly wafting on the air in Crete, but these wholesome herbs also make a fantastic base for brewed teas and beverages.
Linden flowers are well known in Greek mythology to transport you to the land of fairies. So magically medicinal that they have been used in remedies for hundreds of years. Linden flowers have strong antioxidants and are a great stress reliever. It's properties also make it great for reducing cold and flu symptoms and sore throats.
Herbs such as mountain tea, lavender and dittany are fantastic stress relievers and are bursting with antimicrobial and antifungal properties. The warming and calming scent of lavender is enough to relieve any upset. Enjoy in a soothing and delicious tea, or use dried sachets inside pillowcases and linen drawers.
Hints:
Tea Time with friends – Ask from the chef to prepare a tea-time for you! He will even bake local cakes and biscuits to go with!
Cretan Carob
The carob is a delicious and healthy substitute for cocoa powder. Naturally sweet and less bitter than chocolate, carob can be found in rusks, breadsticks, biscuits and is high in fibre.
Corinthian Raisins from the South of Greece
The underrated superfood from the South of Greece. Corinthian raisins are dried, dark red, seedless grapes and are named after the ancient city of Corinth. Super rich in antioxidants and provides numerous health benefits. Corinthian raisins are only produced in Greece. About 95% of the produce is exported around the world. The "Vostitsa" variety has Protected Destination Origin (PDO) status. A raisin with a delightful fruity aroma and unique, intense flavour. Perfect to use in baking and for confectionary, or simply as a healthy afternoon snack, or at your breakfast energy bawl of yoghurt, walnuts, honey and cinnamon! A perfect and very Greek combination!
Thyme Honey
A superfood from the Greek Gods made by busy bees collecting from pine trees. Cretan Thyme honey is raw, dark honey that is packed with antioxidants and incredibly good for the body. Packing an intense aroma of flowers and herbs, Thyme honey is delicious and one of the most popular premium products in Crete. Accounting for 10% of all honey production in Greece. A region competing Crete for its delicious thyme honey is Kythira..on the south end of Peloponnese. Been there? No need if in Legacy.
Tuna from Alonissos
The tuna fish of Alonnisos is one of the best in the world. Greece exports tuna from Alonissos all over the world, especially to Japan where it becomes fine -and trendy- sushi. Best when preserved in extra virgin olive oil, this tuna is a unique high-quality product.
From November until the end of February, fishing boats sail the Aegean sea to catch this tuna variety. On the island, the women of Alonissos carefully clean, boil it lightly and then pack the fish in jars with no preservatives. Tuna of Alonissos can be a delicious appetizer, on its own best paired with smoked white wine or even with ouzo.
Try Local Seafood Recipes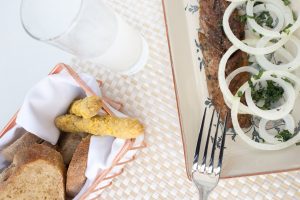 Using local produce in fresh and inventive ways is quintessential to the Cretan lifestyle. Recipes are often simple. A celebration of flavours and textures that pair perfectly. The thriving waters of the Libyan sea are home to some unique species that make it to the dinner table in fresh and inventive ways. With the ocean right on your doorstep, it would be wild not to enjoy the many offerings from the deep blue waters. Cretan's often cook with fresh fish and a myriad of ingredients from the bountiful lands. Traditional dishes such as Cuttlefish with fennel and green olives, sea bream with okra, grouper with onions, and frumenty (a type of wheat) with snails are unique. Recipes like this are quintessential to the Cretan diet and can only truly be experienced properly by enjoying them here, under the Cretan sun, with a nice glass of wine and ouzo. You can also learn how to cook them even…in the cooking lessons at the roof-top restaurant! Tempted?
Other products
In the kitchen of Legacy Gastro Suites, Greek  & local Cretan recipes are cooked and enhanced with unique techniques resulting in unforgettable dishes that can be tasted in the elegant privacy of every suite from breakfast to dinner.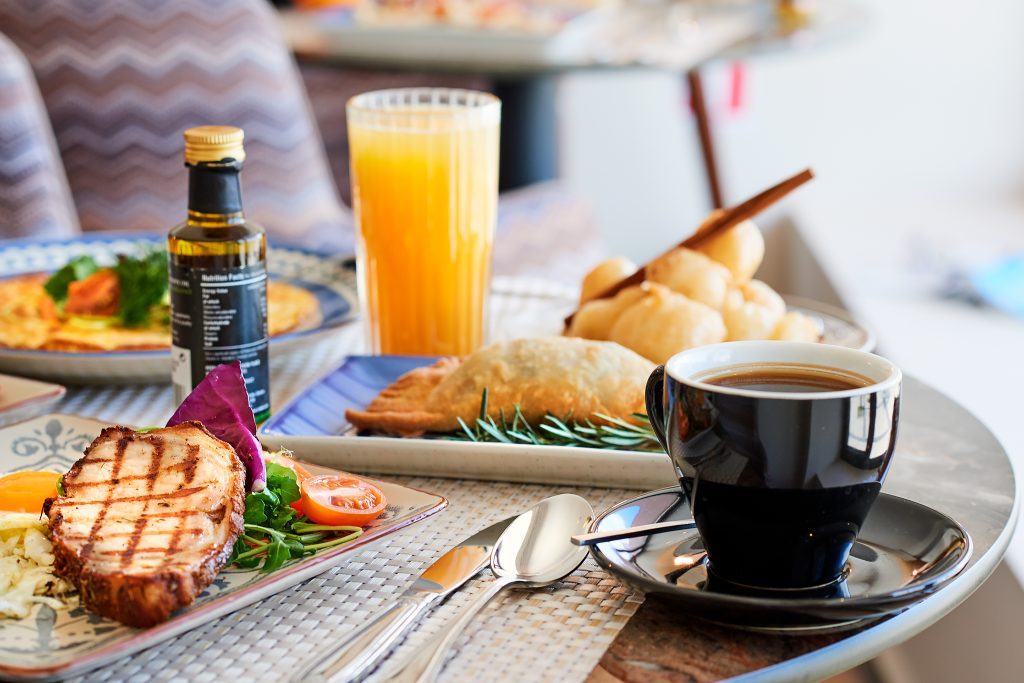 Take advantage of the specially serviced a la carte breakfast with recipes that you would have tasted only if your granny was Greek! Try kagianas, sfougato and combine it with Arseniko cheese from Naxos island and mortadello with truffle from Drama. Try lalagites and loukoumades with a pinch of grilled sesame seeds, grated walnuts and honey!
After this trip, I do feel like having traveled to every corner of Greek territory and have experienced in full its ageless tradition!
---
---